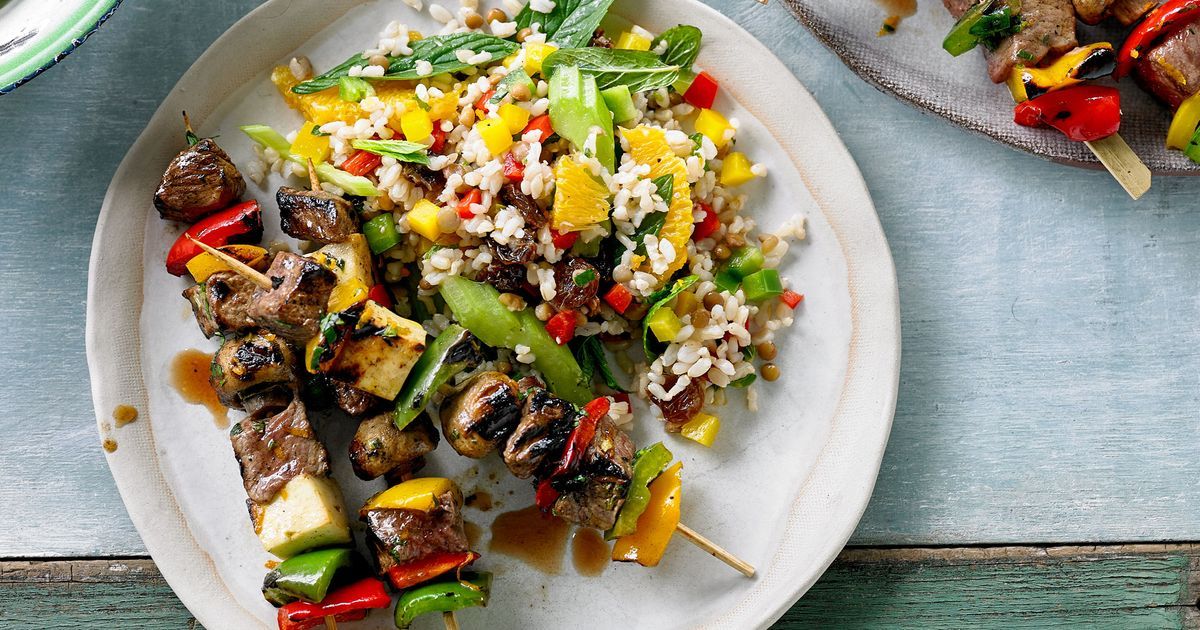 Cyprus, the inspiration for this dish, is quintessential Mediterranean. Join up crowd favourite kebabs with a healthy grain and lentil salad – a tasty meal you can feel good about too!
INGREDIENTS
For beef skewers:
1 ¾ lbs. Aussie grass-fed beef sirloin, trimmed
9 oz. haloumi cheese
1 yellow, red and green pepper
12 button mushrooms
Olive oil, to taste
For dressing:
2 Oranges
1 cup fresh mint leaves
Salt & pepper
1 Tbsp extra virgin olive oil
For the salad:
1/2 cup brown rice 
1/2 cup canned lentils, rinsed and drained
1 Tbsp. red wine vinegar
1 cup finely diced peppers
2 stalks celery, sliced
1/4 cup raisins
METHOD
For the Aussie beef: 
Prepare beef skewers. Cut beef, haloumi and peppers into 3 cm pieces and thread onto skewers with mushrooms. Reserve 1 cup finely diced capsicum for the salad. Brush skewers lightly with oil and set aside.
For the salad: 
Place brown rice in a small saucepan and add 4 cups of water. Bring to the boil and then reduce to a simmer. Cook rice for 25 minutes. Drain and place in a bowl. Finely zest and juice one orange into a bowl and combine with oil, salt and pepper, and half the mint leaves, finely chopped. Whisk to combine the dressing and pour half of it over rice and lentils with the vinegar. Reserve the other half for brushing the skewers. Top rice mixture with peppers, celery, raisins and remaining mint leaves. Segment the remaining orange into the bowl and toss to combine.
To cook: 
Heat a BBQ grill. Cook skewers on each side until golden and cooked to your liking, about 15 minutes for medium. Baste with the reserved dressing as you go.
To serve:
Serve with rice and lentil salad.
Chef Note: Replace the salad with your favourite roasted vegetables for a low carb, keto friendly recipe.
*Recipe courtesy of True Aussie Beef